Zeitfenster im Museum Hameln
Windows into the past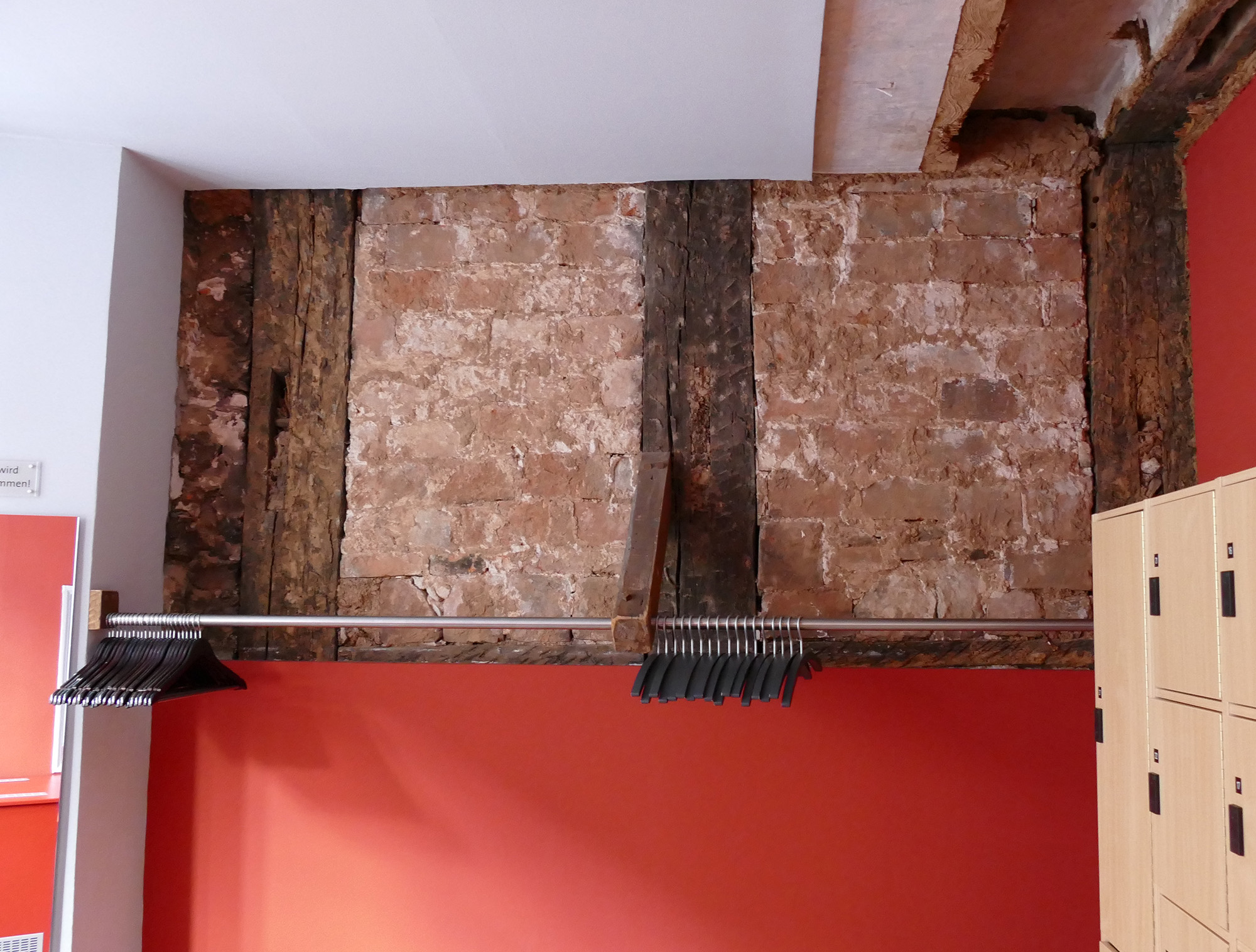 Scroll down to read the English text
Heute Garderobe

–

einst die gute Stube
Fachwerk des Leist-Hauses

 
Die heutige Garderobe des Leist-Hauses diente einst als Stube. Die hier sichtbaren, senkrechten Holzbalken – die Ständer – gehören ebenso zum tragenden Gerüst der westlichen Fachwerkwand, wie die aufwändig mit Ziegeln ausgefüllten Gefächer. Nach seiner Errichtung um die Mitte des 16. Jahrhunderts lag das Fachwerk – wie auch heute – offen. Es war also von innen zu sehen. Erst als 1589 hier schließlich eine Stube eingerichtet wurde, verschwand das Fachwerk hinter Putz. 
Auf der obersten Schicht dieses Putzes finden sich Überreste von gut 40 Renovierungen. Offensichtlich waren die Bewohner des Hauses darum bemüht, die Stube stets modern und schön aussehen zu lassen. Vermutlich wurde sie intensiv genutzt. Tatsächlich verlagerte sich im 16. Jahrhundert das alltägliche Leben in den Stadthäusern zunehmend von den dunklen Hinterhäusern in die helleren Vorderhäuser, die dem Treiben auf der Straße zugewandt waren. Außerdem befand sich das Leist-Haus lange Zeit im Besitz wohlhabender Kaufmänner. Wahrscheinlich diente die Stube ihnen zu repräsentativen Zwecken gegenüber Gästen.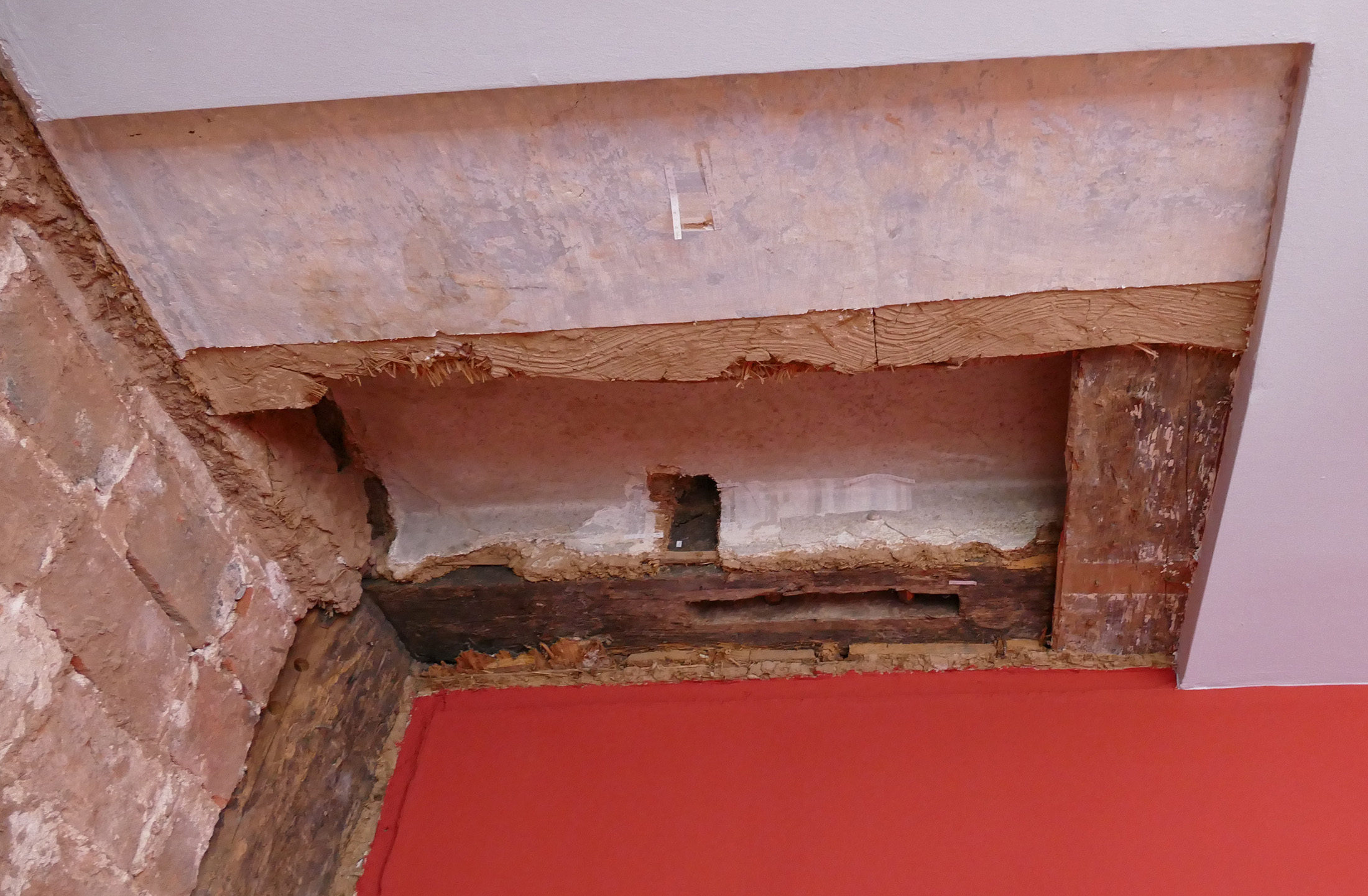 Detailaufnahme des Fachwerks und der historischen Farbfassungen der Deckenverkleidung 
Detail of the half-timbering and the historical ceiling cladding
© Museum Hameln
Current cloakroom

–

once a living room
Framework of the Leist House

 
The current cloakroom of the Leist House once served as a living room. The vertical wooden beams visible here – the stands – are just as much a part of the load-bearing structure of the western half-timbered wall as the compartments lavishly filled with bricks. After its construction around the middle of the 16th century, the half-timbered structure – as it is today – was open. So it could be seen from the inside. It was not until a room was finally set up here in 1589 that the half-timbered structure disappeared behind plaster. 
Remains of a good 40 renovations can be found on the top layer of this plaster. Obviously, the residents of the house tried to make the living room look modern and beautiful. Presumably it was used intensively. In fact, in the 16th century, everyday life in townhouses increasingly shifted from the dark rear buildings to the lighter front buildings that faced the hustle and bustle on the street. In addition, the Leist house was owned by wealthy merchants for a long time. The room was probably used for representative purposes.