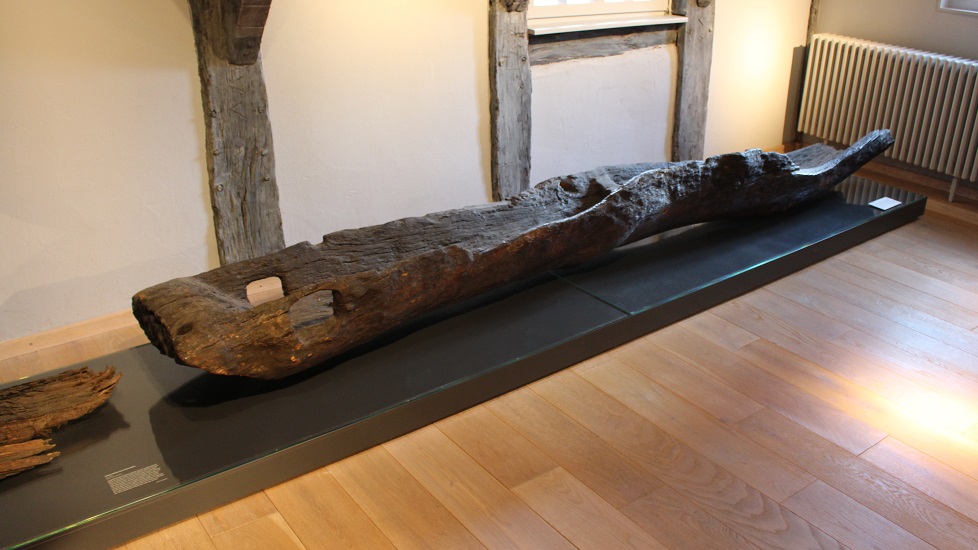 Late medieval/early modern period logboat, © Museum Hameln
Float of a dugout ferryboat
around 1470, Weser at Hamelin?
Hollowed-out tree trunks were used as boats from the Neolithic Age onwards. Together with wooden boats, dugouts were also used as river vehicles for transport and fishing in the Middle Ages. Dugout ferryboats were widespread: a number of hollow tree trunks were connected with crossbeams and equipped with a platform made of laid planks. Such dugout ferries could bear heavy weights and due to their construction could be quickly adjusted to requirements. 
Ferries remained indispensable in Hamelin until the Early Modern Age: The bridge was often unusable or even destroyed.  
Float
1527
Such trunks hollowed out to form a small "tree ship" were used in the 16th century to transport glass and pottery goods down the River Weser. Several dugouts could be connected to rafts by cross beams. Bulk cargo such as coal, lime and woad, in addition to general cargo, could be shipped downstream using such "trestles". In contrast to boats and ships, tree ships and rafts could only go in one direction. Their components were sold after unloading when they reached their destination.