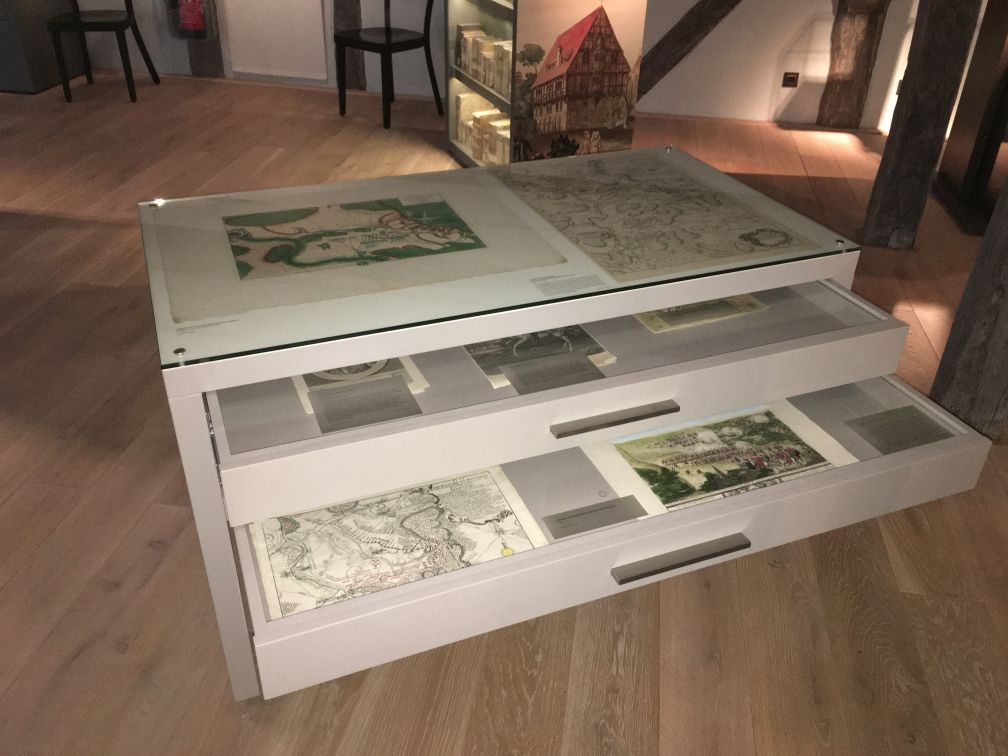 Battle of Hastenbeck, © Museum Hameln
The Battle of Hastenbeck
Battle of Hastenbeck (approach route of the French army)
N.N., around 1760
In the Seven Years War, the English King and Prince of Hanover was allied with Prussia against Austria, France and Russia. The Principality of Hanover was an easier target to attack for the enemies than the British Isles. In July 1757, a French legion advanced in the direction of Hamelin. There was a battle with the troops of the Principality of Hanover at Hastenbeck. On the map, the route of the French troops down the River Weser to Hastenbeck is marked in colour.
Battle of Hastenbeck (position of troops)
Georges Louis Le Rouge, Paris 1757
Louis Charles César le Tellier
(Duc d'Estrée), M. Vanbo, after 1763
Le Tellier was the commander of the French army in Germany from 1757. When he led his troops in the direction of Hamelin, there was a battle at Hastenbeck on 26th July 1757. There was not a clear military victor. Despite already positioning his soldiers for retreat, in the end the Frenchman held his nerve better: When he realised the Hanoverians were also withdrawing, he was still able to decide the battle. As a result, Hamelin was occupied by the French.
Prince Wilhelm August
Johann Elias Ridinger, around 1750
As the son of George II, supreme command of the Hanoverian troops in the Seven Years War was transferred to Wilhelm August in 1757. The Prince was also granted the right by his father to lead special negotiations with the French. In the Battle of Hastenbeck, however, Wilhelm August evaluated the situation incorrectly and gave a premature order to retreat. The battle was thereby lost.
Battle of Hastenbeck (position of troops)
N.N., around 1780
Battle of Hastenbeck
R. Simeon Ben Jochai, (pseudonym of Christoph Gottlieb Richter), 1758
Copper engravings and map sketches of the battle appeared in great number after 1757.  They show the great "media impact" of these kinds of events in the 18th century. This engraving originates from a historical work by Richter. 
Battle of Hastenbeck (position of troops)
Jacob van der Schley, around 1760
Battle of Hastenbeck (position of troops)
N.N., 1757
Battle of Hastenbeck
Lequin, around 1757
The engraving shows the battle from the point of view of the French: They decided in favour of the battle because the Hanoverian commander prematurely ordered a retreat. According to the inscription, the engraving was commissioned by the French Field Marshal Louis Charles César le Tellier,who was Duc d'Estrée from 1763. It continues: "The Marshal kept a cool head at all times in the midst of fire, where his orders were necessary.  The presence and application of the princes redoubled the courage of the troops."