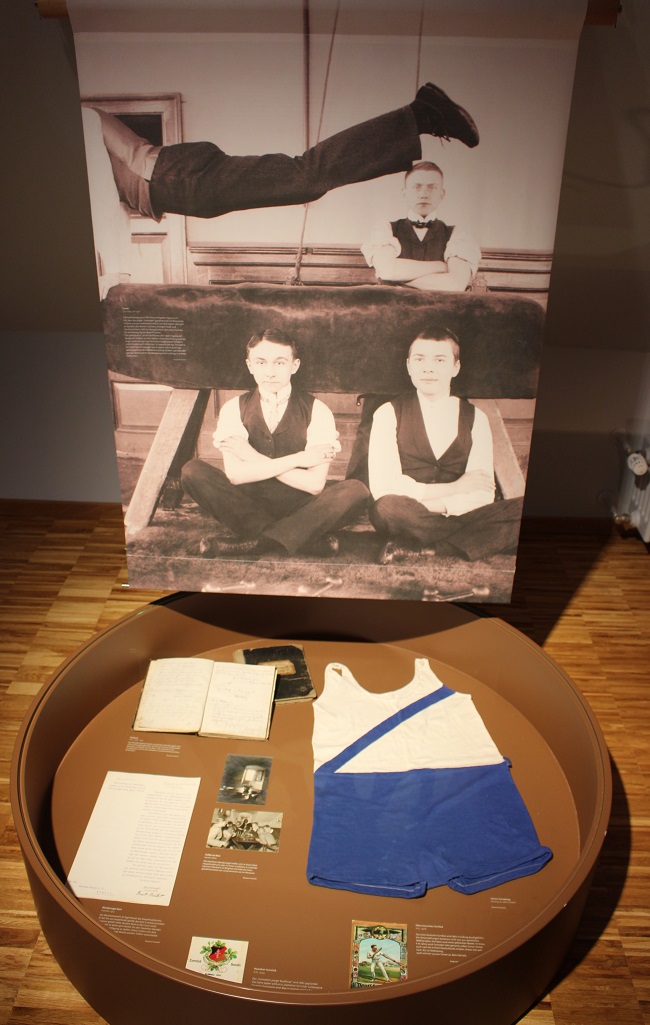 Living in the Empire – Gymnasts Club, © Museum Hameln
Living in the Empire – Hamelin Gymnastics Club
N.N., 1904
The "Young Traders' Gymnastics Club" was founded in 1880. Four years later, it was renamed as the "Hamelin Gymnastics Club".
The first gymnastics club in Hamelin was founded in 1849 – a year later than in most other German cities. It had a clear political, democratic orientation. Its goal was "to bring closer together and connect all social classes, to promote thereby the unity of Germany and at the same time to provide for the mental training of members through speaking and writing […]." In 1852, the club was disbanded due to lack of interest. Eight years later, a new gymnastics club commenced new activities. 
Hamelin "Weser" Rowing Club e.V. est. 1885
Gymnasts
Carl Otto, around 1910
The gymnastics movement gained its most important impetus from F.W. Jahn, who was later called the "Father of Gymnastics". He further developed the gymnastics movement in around 1807: Exercises on apparatus such as the parallel and high bars require strength and skill, not only flexibility. Jahn coined the phrase gymnastics for this type of movement.
He also had a political goal – the unification of the German states into a nation. This orientation and close links to the student fraternities led to the so-called gymnastics ban in many states.
The sport came from England and was marked by the principle of performance, competition and striving for records. The two forms of the movement initially stood in direct competition.
Eleventh German Gymnastics Festival
N.N., 1908
The first German Gymnastics Festival was held in 1860 in Coburg. The events did not only consist of sporting competitions. They also had a political emphasis. The intention of F. W. Jahn, also called the Father of Gymnastics, was that gymnasts should also always strive for the unity of Germany. This goal became less significant after 1871.
In 1908, 55,000 gymnasts participated in the festival. 
Hamelin "Weser" Rowing Club e.V. est. 1885
Men's gymnastics suit
Beginning of the 20th century
Nest book
1916 | 1918-1923
The "Wandervögel" (i.e. migratory birds), a hikers club, offer their "nest" to foreign hikers clubs as a place to stay. The hikers, who often come from far away, write in the nest or guest book. They thank you for the admission and comment on your stay
Meeting in the nest
1920s
Hamelin's "Wandervögel" meet in their Haspelmathturm nest or in their country home in Grohnde. Heinrich Oberbeck is a member and fortunately keeps the photos. In 2009 they came to the museum.