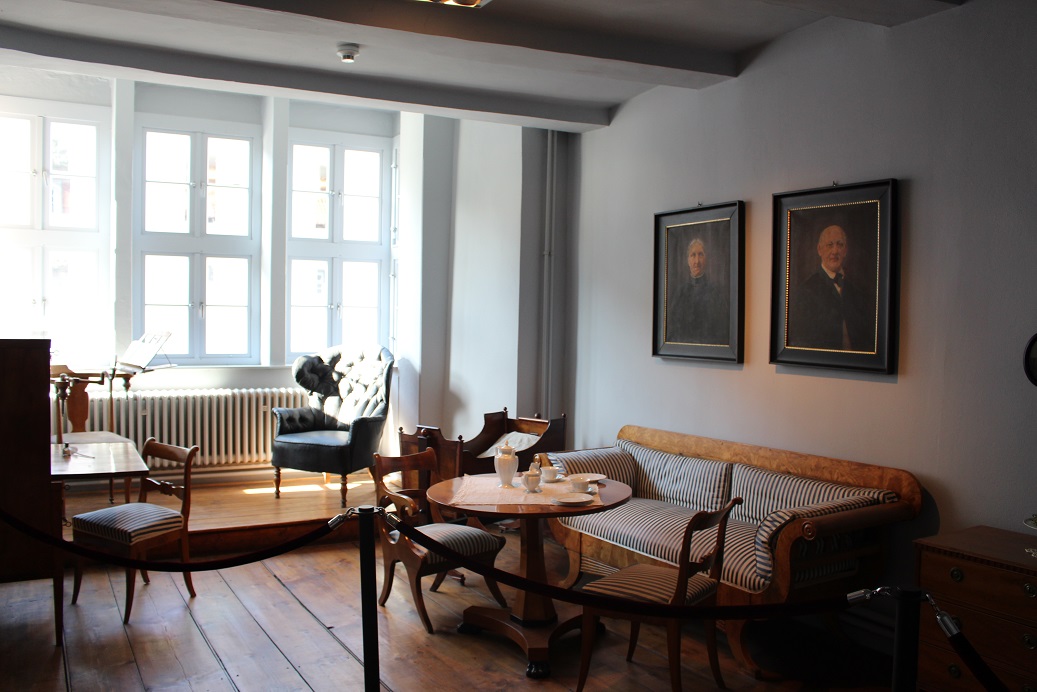 Wallbaum room, © Museum Hameln
Wallbaum- and Pflümer-Rooms
Wallbaum family in the Leisthaus
The stone mason and master engraver Wilhelm Adolph Detlef Wallbaum moved from Einbeck to Hamelin in 1824. He was employed as a master stone mason by the municipal authorities.  In 1826, he married Friederike Luise Scharnhorst from Lauenau and the couple searched for a new home:  the Leisthaus in Osterstraße. In the following years, three children were born: Adolph, Friederike and Emma Marie.
Wilhelm Wallbaum participated in many public construction projects in the Hamelin area during subsequent years and engaged himself politically. In contrast, Friederike Wallbaum-Scharnhorst sealed herself and her children off from the outside world. The three offspring were brought up strictly and at the behest of their mother, had to eschew other children.   The Wallbaum siblings did not leave the parental home and remained unmarried.  The family situation seems to have been especially burdensome for Emma Marie: she committed suicide in 1862 at the age of 30. 
After the deaths of the parents in 1867 and 1873, Adolph and Friederike lived in the house alone.  They were ridiculed, avoided and mocked as misfits in the town. They rejected everything modern as a result, which was also expressed in their continuing veneration of the Hanoverian royal family.  When all of the houses in the inner city were festively lit for the Emperor's birthday on 22nd March 1887, the Leisthaus remained demonstrably in darkness. 
Adolph was a member of the Hamelin Museum Society from the time of the inaugural assembly. When Friederike died in 1909, her brother transferred the siblings' joint will to the Society, which they intended to make the inheritor of the Leisthaus. After Adolph's death in 1910, the Museum Society inherited his estate.  The Wallbaum house was renovated for almost two years and on 14th July 1912, the Hamelin Museum unveiled its exhibitions in the new rooms.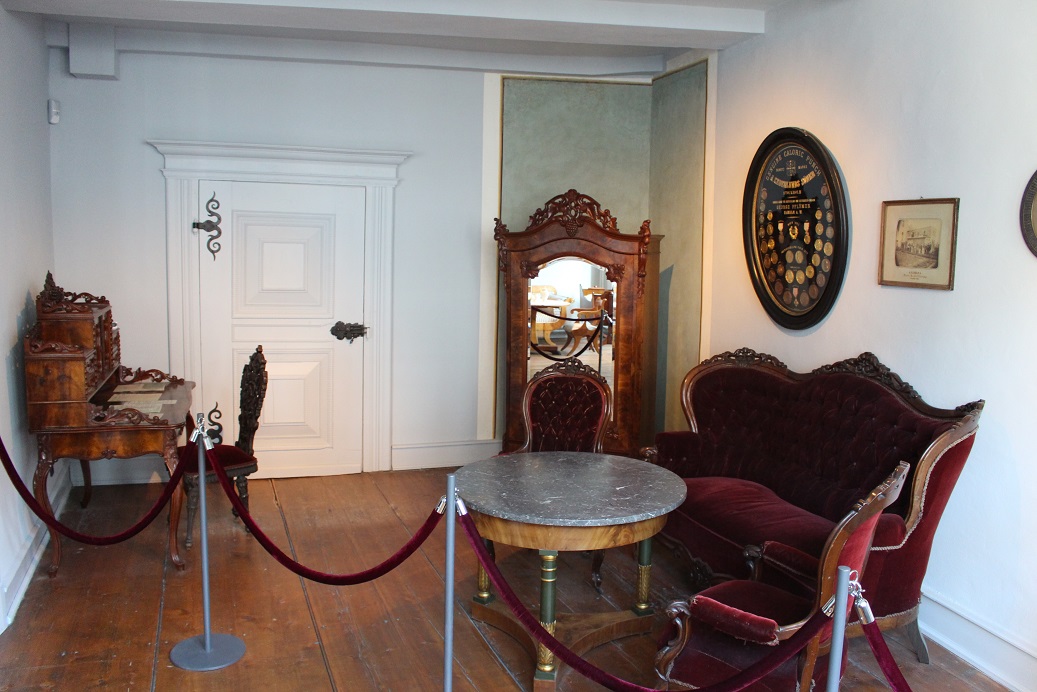 Pflümer room, © Museum Hameln
George Pflümer
George was born in 1845 in Hamelin as the son of the teacher Christian Friedrich Pflümer.  His father was an enthusiastic natural scientist and collector. George entered a commercial apprenticeship in Hanover and then worked as a wine dealer, first in London and Paris, and then later also in Belgium, the Netherlands, Denmark, Norway, Luxembourg, Sweden and Austria-Hungary.  
For the sake of his elderly parents, he finally returned to Hamelin. He had become considerably wealthy in the meantime.  Like his father, he now devoted himself increasingly to his passion for collecting. Pflümer began to collect historical artefacts from Hamelin. He took a special interest in coins, but also made a collection of paper money, as well as a comprehensive book collection. 
Pflümer initially established a small wine selling business in Hummenstraße in 1869, and soon developed into being a large dealer. He preferred to travel personally within his large sales territory. 
The pieces of furniture displayed here belonged to the "boudoir" of the Pflümer hose in Pyrmonterstraße.