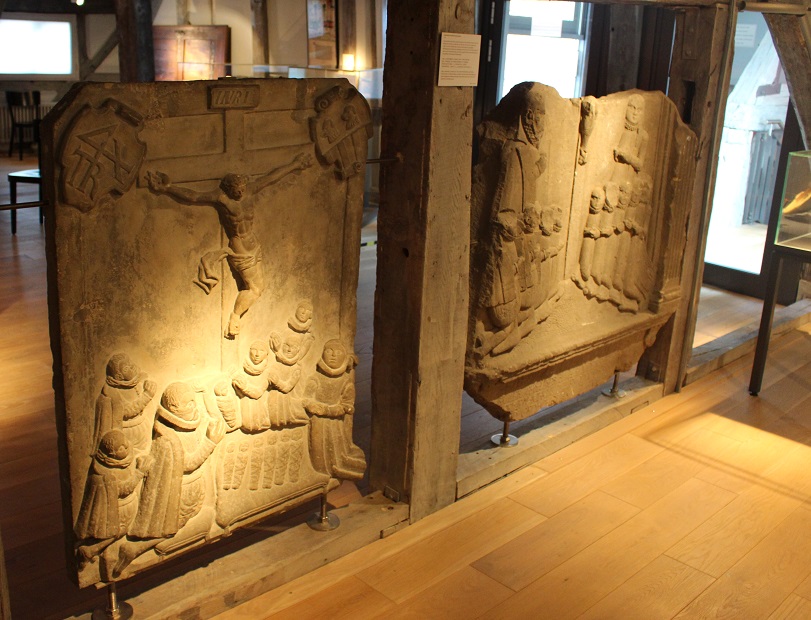 Memorial stone of th Thiele Römer family (left) and Harmen Braier family (right), © Museum Hameln
Death and dying in the Early Modern Period
Thiele Römer family memorial stone (septuplet stone)
1600
Birth and death lay close together in the Early Modern Age. Infant mortality was high. The multiple birth babies born to Thiele Römer and his wife Anna Breyer on the morning of 9th January 1600 died at midday on the same day. The original grave inscription speaks of "two baby boys and two baby girls" who nevertheless received an emergency baptism. 
The birth of quadruplets was also very unusual in these times. In the course of the centuries, however, the legend arose that there were even septuplets. Seven dead children were named. Usually all offspring of a family – living and dead – were represented on such an epitaph. Presumably three small children therefore died before the multiple births. The legend had such a powerful effect that at the beginning of the 19th century, the epitaph was changed: Instead of two girls there are five. 
Harmen Braier family memorial stone 
1589
Harmen Braier applied for membership of the Hamelin small traders' association in 1553. The small traders' welcome goblet names him as head of the Guild for the year 1570. He was the grandfather of the Hamelin septuplets. However, the alleged multiple births only occurred after his death: Braier died eleven years previously in December 1589. His gravestone shows the family of the deceased in peaceful worship of Christ on the Cross. 
1589, 4th December: During the night at 2am, the honourable and righteous Harmen Braier, churchwarden of Hamelin, died. God have mercy on his soul. His widow and children left behind have erected this stone in his honour and memory.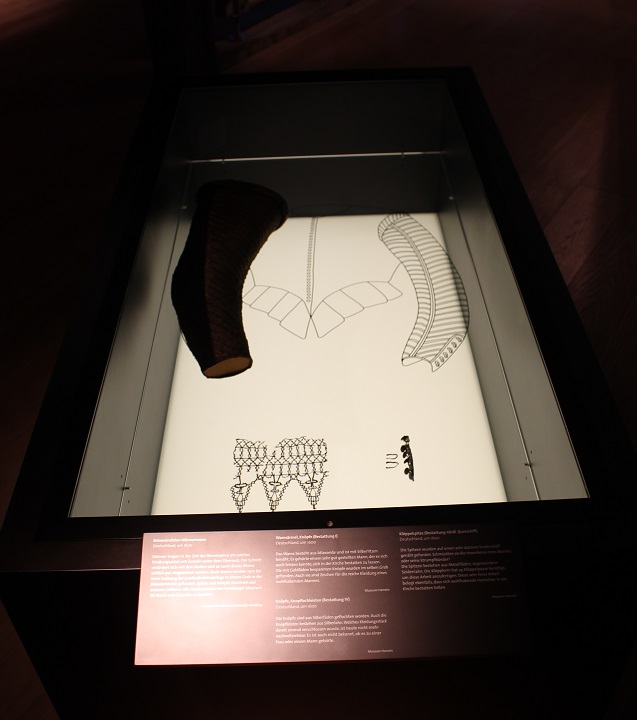 Reconstruction of a men´s doublet, © Museum Hameln
Reconstruction of men's doublet
Germany, around 1600
Men wore such a garment in Renaissance times with sleeves under the over-skirt. The style changed with fashion and so this doublet can be accurately dated. The remains of it were found in 1975 during excavation by state monument preservers in a grave at the Cathedral. Lace and buttons were found in other graves. The finds were all restored at the Hamburg Museum for Art and Commerce.
Doublet sleeve, buttons (grave I)
Germany, around 1600
The doublet consists of atlas silk and is sewn with silver braids. It belonged to a very well-appointed man who could afford to be buried in the church. 
The buttons covered with golden threads were found in the same grave.  They are also signs of the rich clothing of a wealthy man.
Bobbin lace (north transept  burial)
Germany, around 1600
The lace was found sewn to very thin silken material. Did it decorate the trouser legs of a man or his garters?
The lace consists of metal threads, so-called silk flattened wire. The lacemaker required 24 bobbin pairs to produce this work. This very fine work is likewise evidence for the burial of wealthy Hamelin residents in the church. 
Buttons, button hole facings (grave IV)
Germany, around 1600
The buttons are braided with silver threads. The button facings are also made of silver flattened wire. What garment was once closed with them cannot be verified today. It is also not known whether it belonged to a woman or man.
If a person now truly considers and observes that death takes him away stark naked and he leaves behind everything from this world, he would not let himself be distracted and led by insatiable greed to such an extent. […] Furthermore, thinking about death is also a healing remedy against cursed pride, which seizes and occupies some people so much that they almost no longer know what to do in their exuberance except show off even more with their splendorous clothing and despise others around them. There is by contrast no better cure for this than the contemplation of death and how death will put an end to all beauty, adornment and glory with which people oppose it.
Theodor Stedingk, funeral sermon on Melchior Kohl, 1627